by Bhargab Sarmah (Catch News, 30 December 2015)
"Pakistan has promising bunch of players. But people here prefer personalities before sport. Lack of merit, favouritism, politics for power in the Pakistan Football Federation (PFF) is not helping the cause of the game in this country," former Pakistan national team coach John Layton had lamented after leaving his post in 2002.
13 years later, little has changed in Pakistan football it seems. As seven of the eight South Asian Football Federation (SAFF)-affiliated countries battle it out for the SAFF Suzuki Cup title in Trivandrum, India, the Pakistan national team can only enjoy the action on television.
In fact, with the Pak Shaheens already out of the World Cup qualifiers after losing the first round tie to Yemen, it remains unclear as to when the national team will be in competitive action next.
PFF power-struggle and the aftermath
It was a controversial provincial body election which kicked off a series of events leading to this current crisis. In April 2015, Sardar Naveed Haider Khan, a close aide of PFF President Faisal Saleh Hayat, emerged as the winner in the presidential elections of the Punjab Football Association (PFA).
The election was mired in controversy after Khan's rival Arshad Lodhi saw several of his supporters banned by a PFF disciplinary committee. Months later, when a PFF extraordinary congress suspended Faisal Saleh Hayat, the body split into two different factions.
With both factions involved in a power struggle, the Lahore High Court ordered a stay on the upcoming board elections. Despite this, the group-led by Hayat went on to hold the elections, which unsurprisingly saw him retain his presidential post.
The court appointed an administrator to run the sport in the country, but world football governing body FIFA saw this as government interference, and backed Faisal Hayat instead. In November, the PFF decided to withdraw the national team from the SAFF Suzuki Cup, claiming the non-availability of funds for the trip to India.
It is a situation which Pakistan national team star Hassan Bashir describes as 'embarrassing'. "The people controlling football in Pakistan, they see this sport as a business. This is the biggest problem facing the smaller Asian nations today. Football is big business and the administrators know that very well," he tells Catch.
"I am disappointed, sad, crushed and angry, at how things have been handled. We didn't play enough competitive games for a long period before the World Cup qualifiers, which forced us into playing the first round because of our low ranking. There we drew the toughest team possible (Yemen), and were knocked out. And now we are not even participating in the SAFF Cup!" he laments.
A rogue governing body?
The problems at PFF go much deeper than the recent internal feud. Umaid Wasim, a Karachi-based sports journalist working for Dawn, has played a major role in exposing some of the corruption cases involving the governing body.
As part of FIFA's Goal program, Pakistan had been awarded eight projects by the world governing body. Wasim says that only one of those eight projects is now fully operational with training facilities. "If you look at the FIFA website, all of them are meant to provide training facilities but just one has a pitch: the one awarded to Khanewal earlier this year," he says.
"I don't shy away from saying that the PFF is a microcosm of FIFA. Over the last year, we've seen how corruption is endemic to FIFA. And, on a smaller scale and with smaller amounts of money involved, I've uncovered how corruption is rampant in the PFF as well," Wasim explains.
"Unfinished Goal projects are one, there is also a project given by Dr Chung Mong-joon (former FIFA Vice President) and the Asian Football Confederation (AFC) that never began. The coaches claim that there is massive corruption in the AFC Financial Assistance Programme (AFAP) funds which the PFF receive, and then of course they sold World Cup tickets at inflated prices, which is a breach of FIFA rules," he adds.
Wasim says his work at exposing the misdemeanours of PFF has seen him being threatened by the governing body. "I have been threatened several times with dire consequences. They even went on social media and called me all sorts of things. But I am proud of my organisation, which has stood up for me despite being taken to court by PFF and being pressurised by various other means," he states.
Shahrukh Sohail, chief-editor of FootballPakistan.com, says, "The PFF already lacked the necessary vision required to genuinely reform the state of football in Pakistan, and now, because of lust for power and perks abroad, they have collectively brought football to a complete standstill."
"The withdrawal of Pakistan from the 2015 SAFF Suzuki Cup was perhaps the lowest point. The PFF crisis should not have stopped the national team from going, but PFF deliberately withdrew the team to make things worse and play victim of their own follies," Sohail rues.
Faisal Saleh Hayat – a footballing fascist?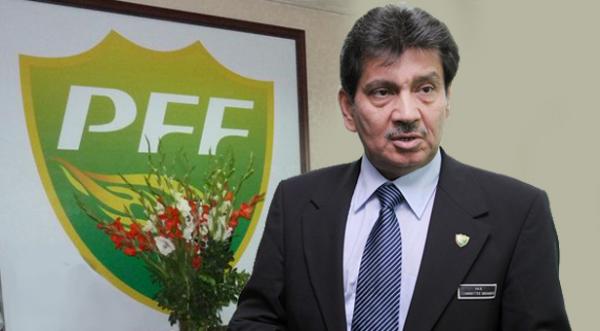 All this has happened under Faisal Saleh Hayat's ongoing 12-year reign at PFF. The 63-year old Hayat is a seasoned politician, having been elected as a Member of National Assembly (MNA) on a number of occasions. He has also served as a federal minister multiple times.
Hayat is currently in his fourth presidential term at PFF, after being controversially re-elected earlier this year. "12 years is a long time to change things in any sport in any country. But if the main focus is on consolidating one's own power, gaining political mileage at AFC and FIFA, and suppressing dissent to ensure unchallenged control of affairs, then football progress takes a back seat," comments Shahrukh Sohail.
During his first tenure (2003-2007), Pakistan won consecutive gold medals at the South Asian Games, but things have only gone backwards since then. "His last two terms were more about consolidation of power. Instead of professionals, political allies and close aides of Hayat were given important posts at PFF. Under his watch, there has been scant attention towards genuine domestic reform and grassroots work," he adds.
Umaid Wasim says Hayat has been shrewd enough to shield himself from the numerous scams at PFF. "If you look at PFF holistically, then yes, he is to blame. As far as the documentation is concerned, Hayat is smart and isn't a signing authority on several key documents which expose PFF's misconduct. But as president, he definitely can not play the 'unaware' card," he says.
An archaic domestic football model
Pakistan's domestic football scenery is crowded with departmental football outfits. In recent years, there have been no concrete reforms to help the country move to a proper professional club football structure.
"Departments hold permanent votes and make up 1/3rd of the PFF Congress. Pakistan should take inspiration from how India, Thailand and a few other countries have dealt with departments to reform teams," opines Shahrukh Sohail.
Sohail feels a franchise model could be a good option for the domestic game in Pakistan, but isn't sure whether the stakeholders of the game will be willing to adapt to the same. "It will require a lot more investment and breaking free from the past, which in Pakistan nobody is prepared to do at the moment," he bemoans.
On the other hand, the women's game in Pakistan suffers from abject apathy. "PFF never prioritised or even considered women's football seriously in Pakistan for many decades. It only decided to have a national women's championship in 2005 when FIFA made it obligatory for all national associations to have women football in order to continue receiving annual funding," Sohail adds.
At present, the Pakistan men's national team languishes at 184 in the FIFA world rankings, while the women's team lies at 130 out of the 140 active women's national teams, both of which can be said to be fair reflections of the state of the domestic game in Pakistan.
What next for football in Pakistan?
"I have a request for FIFA: please kick the politicians out of our football," says Denmark-born Hassan Bashir, who has been one of Pakistan's finest footballers in recent years. "They are ignorant, greedy and don't care about Pakistan at all," he fumes.
For Bashir and his teammates in the national team, it has been a difficult year. From having to face the ignominy of playing the first round of the World Cup and Asian Cup joint-qualifiers, which they lost to Yemen, to being robbed of any other competitive action, they have reasons to be aggrieved at the PFF.
However, as things stand, there doesn't seem to be a feasible solution in sight unless FIFA steps in. "FIFA is in a crisis of its own with many of its senior officials arrested or under investigation for decades of corruption. This makes FIFA's intervention all the more necessary if its claims of reform and accountability are to be taken seriously. FIFA cannot be reformed unless its 209 national associations are also reformed," opines Shahrukh Sohail.
Umaid Wasim calls for a normalisation committee to be put in place to run the game in Pakistan for the time-being. "Get a normalization committee in, one that has independent professionals and stricter checks on where it's funding is going. Most importantly, liaise with the government and the court as it goes ahead with the PFF election," he says.
With FIFA putting its weight behind the notorious Faisal Saleh Hayat, who has been asked to amend the PFF statutes and form an independent disciplinary committee before holding elections again in two years' time, it will be interesting to see how things pan out. However, there is no denying that major reforms are needed if Pakistan football is to pull itself out of the abyss it finds itself in today.