Quite unexpectedly Pakistan Under-22 football team slumped to rock bottom in the 2013 Asian Cup Qualifiers which concluded in Riyadh (Saudi Arabia) last week. The apparently well-prepared Greenshirts looked short on both talent and experience, something they needed to counter their tough rivals in the continental spectacle.
After going 0-1 down against Saudi Arabia, Pakistan were surprisingly held to a goalless draw by comparatively weaker Sri Lanka. This brought down the team's morale and thereafter it kept losing matches, tasting a 0-2 defeat at the hands of Kyrgyzstan, was crushed by Syria 4-0 and in their last show Zavisa Milosavljevic's charges also went 0-1 down against Palestine.
In the entire affair, Pakistan failed to score a single goal, but conceded eight in the process. Pakistan's finishing, as usual, was their Achilles Heals. There were some reports that coach Zavisa made some rapid changes in the line-up which he had already decided on tours of Thailand and Palestine.
Injuries to left-back Ahsan Ullah and skipper Kaleem Ullah also affected the team's performance. The selection of a few ordinary players, who had no international exposure, also went against the team.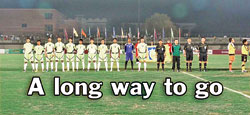 Before flying for Riyadh, Pakistan were provided with two and a half months' hectic training both at home and abroad. The boys were sent to Thailand, Palestine and Bahrain where they played a number of practice matches against different oppositions.
Coach Zavisa Milosavljevic did not blame his players for the poor display but the system back home which has been unable to produce the stuff able to face pressure of tough international events.
"I will not blame the players for their failure in the Asian Cup Qualifiers. They showed a lot of improvement after around three months of good training but I would say that they are still far behind the rest of the countries who participated in the Asian Cup Qualifiers," Zavisa told 'The News on Sunday' in an interview.
"Pakistan needs to strengthen its club structure. If you have a sound domestic system you will find players who will already know the basics of the game and a coach will have to focus on the build up, super training and preparation of the team ahead of any competition and not to work on their basics," the Serbian pointed out.
"Pakistan is far behind and will have to adopt a solid approach to correct its football," he said. "I will discuss these issues with the authorities and will try to sort out a solution for the problems. If the same team with slight changes is groomed for around two years, then I would be in a position to explain myself. There is a dire need of persistent and systematic grooming of different age-group teams under a healthy pool of highly qualified coaches which could produce and develop better stuff for the senior or Olympic sides," he stressed.
"My responsibility is to run a senior team but I will also guide and support those coaches who will run age-group teams. But I once again say that this should be a continuous process and should not be halted," he said.
In the entire tournament, Pakistani keeper Saqib Hanif played exceptionally well as he saved several sure goals even against the tough oppositions like Saudi Arabia and Syria.
Saqib, who has recently joined KRL, may become a worthy successor of the experienced goalie Jaffar Khan who is still captaining the senior side.
The qualifiers were a real test for the Serbian coach Zavisa in which he failed badly. He is accused by experts of defensive approach. But still he will be given a few more opportunities as the PFF does not want to remove him now as he has hardly served for around eight months as a coach.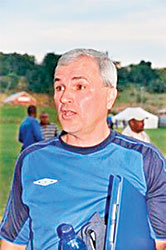 His next challenge will be the South Asian Games which are expected to be hosted by India in New Delhi early next year.
But I would suggest that the team which will participate in the South Asian Games should be given to any other home-grown coach while Zavisa should be assigned the task to prepare the senior team for the AFC Challenge Cup Qualifiers to be held in March next year.
The senior team has not played any international game for the last six months which shows that it will be difficult for the country like Pakistan to improve its ranking.
Pakistan should think beyond the South Asian Games as there is no value of such a regional tournament in the eyes of the AFC and FIFA. Pakistan should focus on giving maximum exposure to the senior team and at least four foreign tours ahead of the AFC Challenge Cup Qualifiers will be required to produce the desired results in the continental event.
The foreign coach should also try to induct key foreign-based players which could transform the team into a fighting unit. He should also review what sort of support staff he will need for producing desired results on international circuit.
In order to improve football, the PFF should also review its administrative structure and have a qualified Director Technical who could work strongly to put the country out of the crisis.
73.alam@gmail.com